CHP/CSHP
CHP/CSHP is Combined Steam, Heat and Power or cogeneration, which is the highly efficient process of combusting gas to generate both electricity and thermal energy simultaneously. The by-product heat produced by the electricity generation process(exhaust gas and hot cylinder water) is captured by a heat recovery module and can be reused to produce useful heat in the form of hot air, hot water or steam.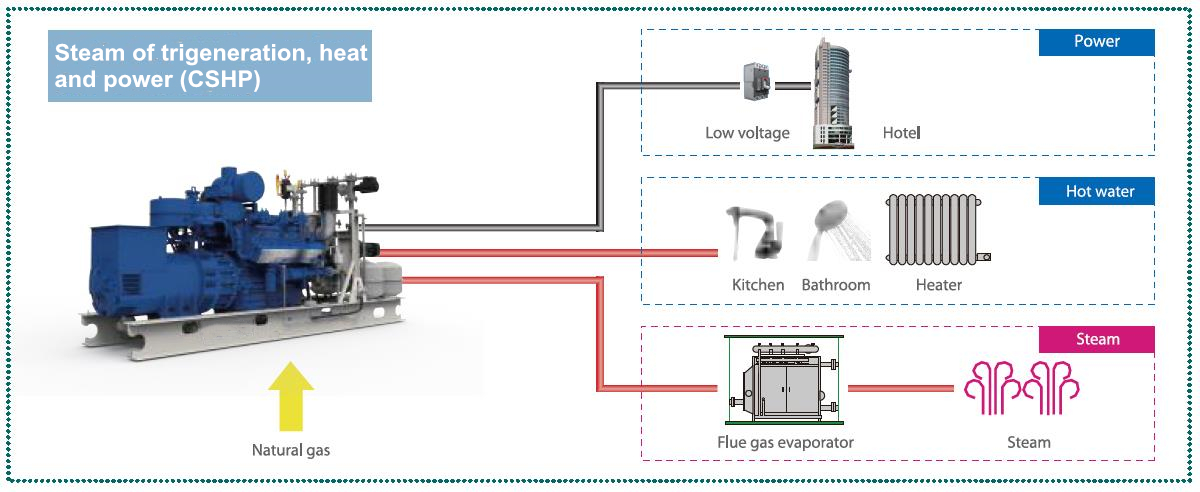 CCHP
CCHP (Combined Cooling Heating and Power) system is also known as a combined cooling, heating and power system. The distributed combined cooling, heating and power system is a solution for comprehensive cascade utilization of energy, and the total energy utilization rate can reach 75% to 90%. It uses hydropower, bioenergy, wind energy, solar energy, geothermal energy, natural gas, waste energy or industrial waste heat, and other resources that can generate electricity or heat as primary energy sources, and combines power generation systems with heating and cooling systems on a small scale. , A comprehensive energy supply mode in which dots are distributed near the user. So as to meet the needs of users for energy such as heat, electricity, and cold. The CCHP system not only enables users to form an energy supply system by themselves, but also can be connected to the grid for operation. The system has relative independence, flexibility and safety. The CCHP system can operate independently or in parallel, to meet the needs of users with different power loads.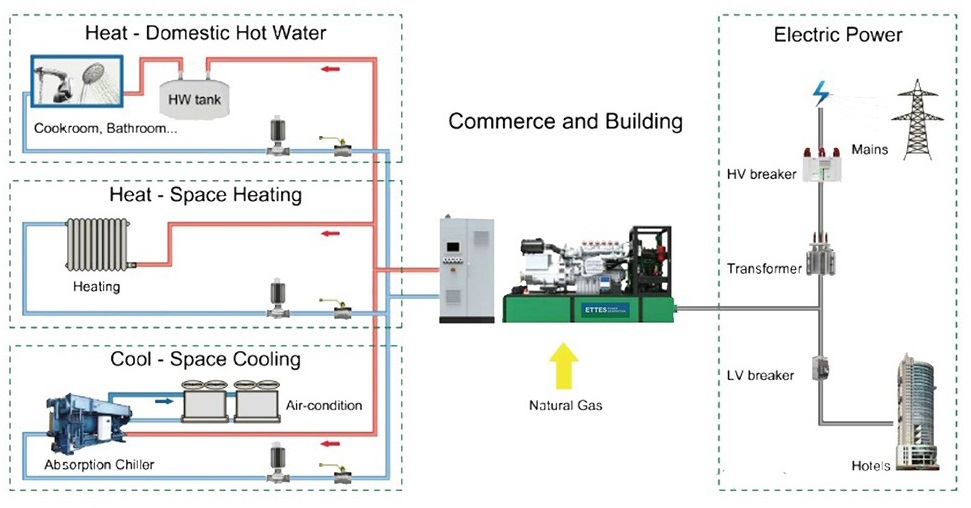 DER(Distribution Energy Resource)
Distributed energy resource (DER) is a small-scale unit of power generation that operates locally and is connected to a larger power grid at the distribution level. DERs include solar panels, small natural gas-fueled generators, electric vehicles and controllable loads, such as HVAC systems and electric water heaters. An important distinction of a DER is that the energy it produces is often consumed close to the source.
When using renewable power sources, the intermittent nature of some resources creates a need for using multiple renewable resources, as well as a means to tie them together, manage and store their output. Energy storage such as batteries and flywheels are required for hardware such as wind and other turbine types, solar panels, and tidal generation units. In order to get the most of the energy produced, these power sources and storage devices need to be tightly managed by way of electronic management devices, which include inverters and software such as Storage Distributed Resource Schedulers (SDRS).
DERs are commonly used to manage a number of smaller power generation and storage methods in residential, commercial and industrial sectors. They may be used by utility providers, businesses and individuals in the production and storage of renewable power or for backup power sources. The technologies are fundamental requirements of more advanced power grids such as smart grids.